Back in September, the Kansas City Chiefs had lost their opening game to the Atlanta Falcons by a wide margin. That evening, I was texting a buddy of mine that I've have known since 5th grade about how poor that the
Chiefs had been with the salary cap, and how cheap I was perceiving them to be. After the conversation, I tweeted out what I thought was a meaningless tweet rant about my perception of the situation.
"I'm not much of a @kcchiefs fan anymore. [Chiefs owner] Clark Hunt's yearly 30m under the cap bullshit is unethical. Greedy bastard owners can F.O. cc @nfl"

Let's just say… that tweet caused a bit of a social hoopla. 3 minutes after I sent that tweet… a Chiefs employee tweeted me a response via a private direct message. I then took a screencap of this message and shared it with the world. This triggered a chain reaction, in which the Chiefs blocked me on twitter, a top post on Reddit, many local and national interviews and a social media case study was created.


Once the @KCChiefs blocked me on Twitter, I decided to go ahead and attempt to teach them a social media lesson. As a social media strategist, I figured this was a good time to show to the world the value of effective social media management. You can't hit an emotional, angry customer back with emotion. It doesn't work.
So, I decide to create a social media case study out of the KC Chiefs, and work some of my awesome sauce, since I was in a frisky mood… I posted it to my Facebook… then onto Reddit, where it ends up hitting #1 on the r/nfl subreddit and onto the front page of Reddit.
Then the one of the most popular afternoon radio show hosts in Kansas City, Lazlo, starts talking about it… A friend calls me to tell me this, so I get ahold of the show via their text number, and they call me back and interview me:
7 minute Radio interview with Lazlo on 96.5fm in Kansas City: http://media.965thebuzz.com/a/62378247/reddit.htm?
Then, the Reddit article gets so much traffic that it slows down Reddit's servers.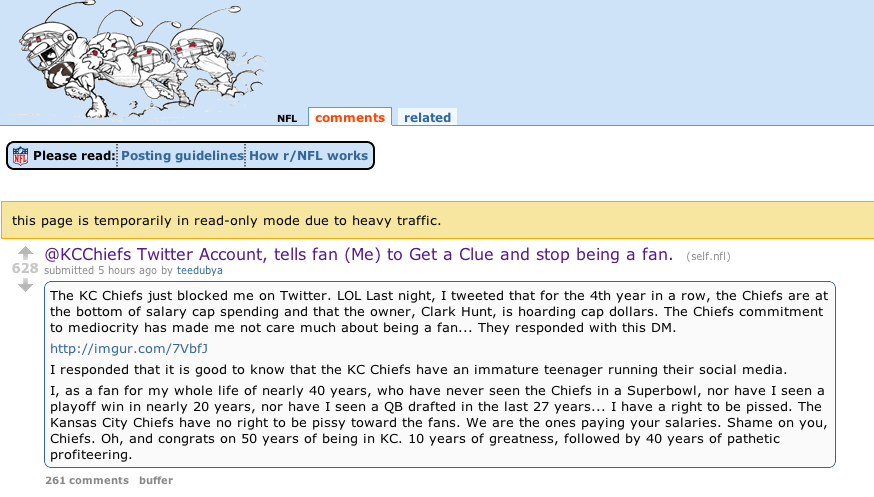 I almost crash Reddit! LMAO This is probably the highlight for me, so far.
Travis Wright on WDAF Fox 4.
Travis Wright on KSHB in Kansas City
Nobody's perfect. I'm fucking far from perfect… but c'mon, anyone who knows me, knows that I'm a loud bastard. I will broadcast messages and create viral badassery, if need be. And I didn't go Global Viral Nuclear on the Chiefs, until they blocked me.
When they felt the heat a bit, they could have DM'd me back and said, "Hey teedubya sorry to get so defensive. We want to win as much as you do. We are all frustrated." I would have mentioned that and NEVER posted to Reddit.
Once they blocked me, I decided to create a social strategy and use some tactics to make this go viral. It succeeded.
TL;DR version: I was an ass to the Chiefs in one tweet, they were an ass back. Brands can't do that. I tweeted it. They blocked me. I put it on Reddit and made it go global thermal viral and taught the Chiefs a valuable lesson in consumer social media reputation management.

UPDATE:
So, this happened in September 2012.  Why am I blogging about it now? Save Our Chiefs was created in October by Eric Granell and Marty McDonald… they flew banners over Arrowhead… we helped Blackout Arrowhead.. .and in the end, Scott Pioli was fired. Ding Dong! The witch is dead!
Eric Granell, Marty McDonald and Phil Kloster from Chiefsplanet were very instrumental in keeping the momentum going and keeping the heat on the Chiefs. All of the ongoing kudos, belong to them.
Things are much better in Chiefs Kingdom in 2013.
The Chiefs hired HC Andy Reid and GM John Dorsey… so all is good in Chiefs Kingdom.  Are you still butthurt, Travis?  Nope.  Not at all.  I have 100% faith in the Chiefs braintrust now.  Clark Hunt is NOT a greedy owner.  He is a go-getter, who gets shit done.  He identified Reid and Dorsey and he got them. And KC fans are thrilled.
And the Chiefs UNBLOCKED me… and actually followed me on the day that Pioli was fired! I then purchased season tickets for 2013 that very next day. 🙂
So why blog this now?  In fact, I just got this blog set up in January and I wanted to archive my thoughts on the scenario… but also, the fine folks at Rise Interactive in Chicago, made an infographic of the whole scenario today.
And also to let everyone know that the fans in Kansas City helped create change in a big way. The power of the people is strong indeed!